Well, that's a long title for a good little show. I don't know how long they've been doing these shows, but it was a nice turnout. True, there were maybe 9 FoMoCo products but it was good none the less. Living in Utah, Garbage Motors is generally the norm here, but there were a few unique rides to look at (that weren't Garbage Motors).
There isn't a ton to say about this show except it was right up the street (literally across the street and up a block). Jamie was in tow with her wonderful attitude (It's a good thing, not being facetious). I got there before she did, found a nice spot that would be shade most of the day and took a few pictures before it got busy. After about 30 minutes, another car owner named Justin asked if he could pull over to our side (he was out in the sun, and it was going to be an 80* day). I said sure, and he drug his Grand Prix over to the shady side. I walked home and got some water, cooled off a little, changed my clothes, and went back. Of course, there's always a Nova at every car show, and this one decided to park next to my car. Nova's aren't Garbage Motor's worst car in my book but they're about as unique as all the Camaros, Chevells, and Impalas you see at every show (usually parked near the plethora of cookie cutter Mustangs).
Enough climbing around on my "All automakers are inferior to FoMoCo " soap box. Here are a pictures, and yes, as typical and expected, the Nova owner had his flat brimmed baseball cap on backwards (level), his sun glasses propped up on top, and was squinting his brains out looking like he couldn't figure out how to keep the sun out of his eyes).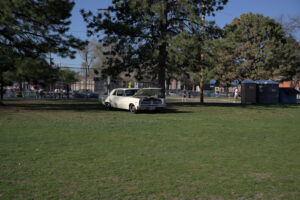 I enjoy car shows, or maybe I enjoy the "idea" of a car show. Either way, I like going, like getting there early, like to leave early, and like seeing the dogs. People, not really, but that's part of the drama that comes with going to car shows.
Come on out next time, see if you might know someone at the show, and see what people spend their time, money, and energy creating. Some of them are pretty awesome, and unique, the others are Garbage Motors.