More years ago thank I like to remember, I visited Liberty Park in downtown SLC. We walked around it for a few hours today, went to the Tract Aviary, and I took lots and lots of pictures. I'll put my faves in here as I talk about the day, then the gallery will be down at the end.
First off we hung around the ducks and geese. They're really tame, and let me get all up in their grill before they even flinched. Most of these pictures were taken kneeling down, or squatted low. Can't say I did a great job with any of them, but they were all fun.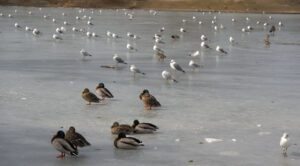 After wondering around the south side of the pond/lake/water feature (I dunno what to call it), we headed around for some water features (that have running water in them during the warmer months). They were kind of cool because they were all representative of the canyons up and down the Wasatch Valley. Immigration Canyon, Big and Small Cottonwood Canyons. It was a fun and interesting place to see, and I imagine it'll be even more interesting when there's water being wasted on and around the place.
Along the middle of the park, is a long tree lines lane. Sidewalks on either side, a few small features here and there. Today was accompanied with the insensate droning of a drum circle. About 15 or so hippies were sitting, and laying down beating the living shit out of their drums. A few Hacky sackers standing around to complete the ensemble. I was going to wonder over and steal some images of them, but I didn't want to encourage their behavior.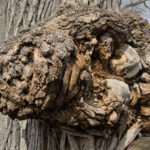 Once we walked to the end of the boulevard, there was a kid's playground that I wanted to see, and maybe find some family, kid, laughing stuff to take a picture of. Knowing full well, I could easily look like a pedophile if I were to get too close to any kids or families, I kept my distance and really didn't get any good images of anyone. Just a couple fun architectural features that made for interesting photographs.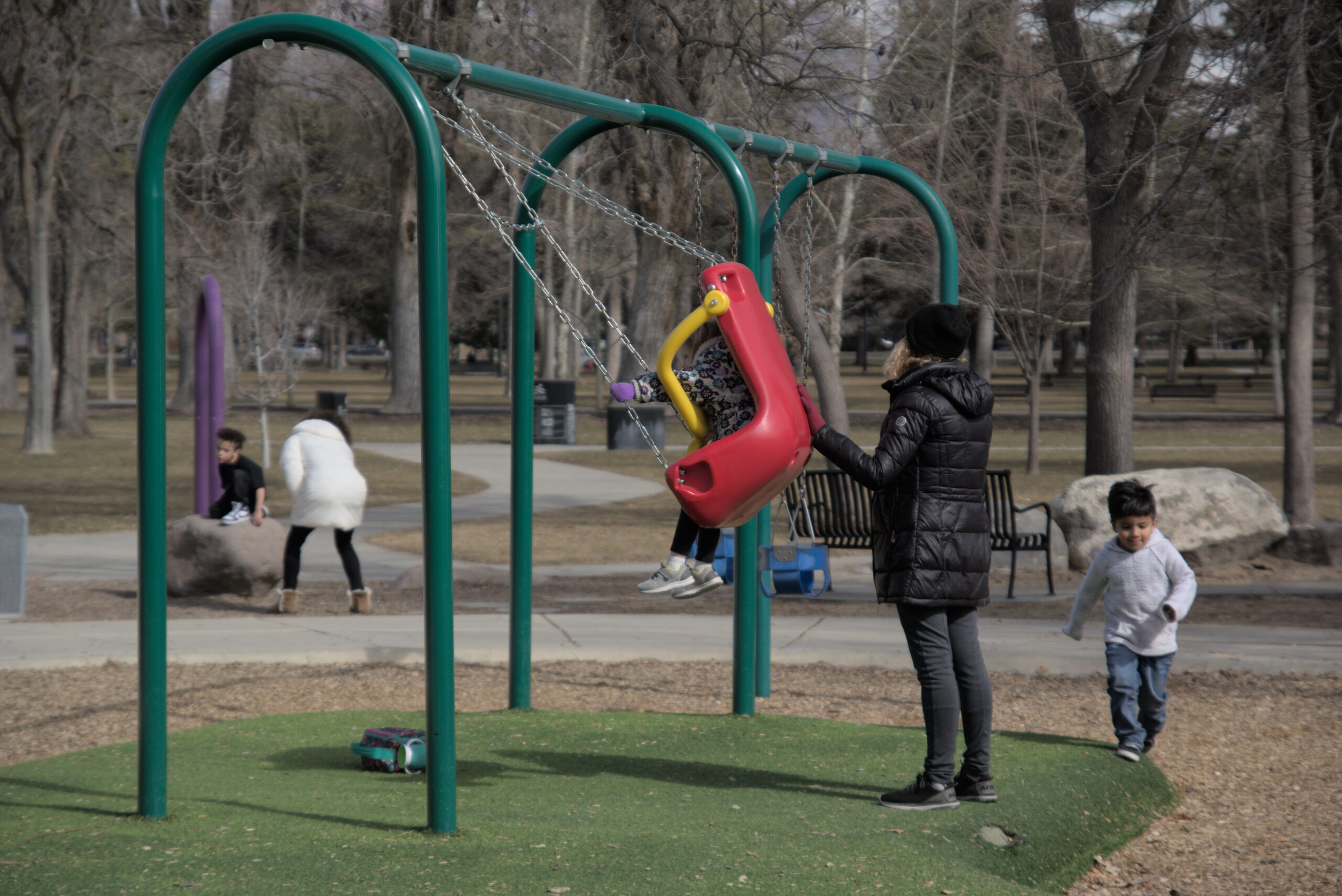 After we watched the kids being kids, and the parents being parents, we spun around, and found some folks playing "Bachi Ball". The music was old school Jewish (Yiddish maybe?), cranked on an old guitar amp. There was a younger couple playing on one side, and a couple of men playing on the other side. They didn't seem to mind me taking pictures, but I didn't want to push my luck (it isn't fun being chased around by pissed off photo-phobic people).
We found a small Koi fish pond, and I saw another wild looking tree so I stole some pictures of it. The pond wasn't much to look at really, but I want to learn how to use my polarized filter more, so I took a few pictures with it before we moved on.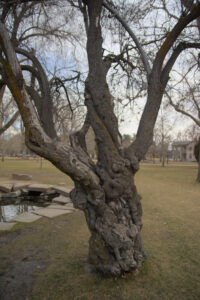 Walkin' on over to the bird aviary, we passed a green house. A little rough on the outside, but looking inside, it was being used quite a bit, with a lot of green plants inside, and flowers that looked like they were about ready to come out and play with the other foliage. Anyhow, I was drawn to the old concrete, white washed windows, and hard water deposits worn down by weather and use. Just loved the texture of it all.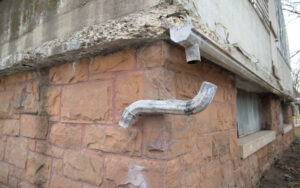 Finally into the Tracy Aviary. This place and me go WAY back. Circa 1973'ish, probably further, but who really remembers back younger than 4'ish? I know we did some school field trips when I was going to elementary school at Rose Park Elementary. I tried to find some history on the Elementary School, but couldn't find anything in a few minutes I looked. My dad, uncle, and aunts all went to Rose Park Elementary, so it's kind of our "family school". It has since been knocked down, and rebuilt, so the old halls are gone, but the name remains the same.
Almost forgot, before we went inside, there were these shenanigans going on. Poor dog was loosing his mind. Sneaky squirrel was taunting him to no end.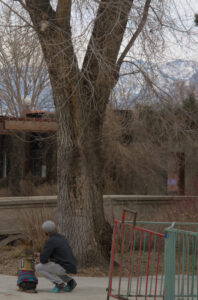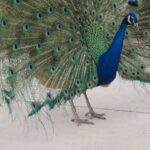 After dealing with the Peacock (it was actually the shitty kids running around it that I wanted to thump), we wondered on around and I kept seeing weeds, twigs, leaves, trees, and stuff that grows in the summer that looked like it needed its picture taken. I also figured out how to use Macro on my latest lens, SO excited.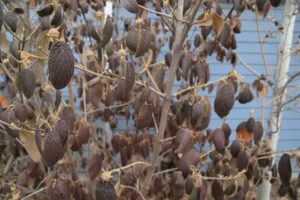 A few of the areas we went through were void of birds, but there seemed to be something interesting to take a picture of just about everywhere we went. These couple pictures were outside the entrance to a finch enclosure. I really liked the texture.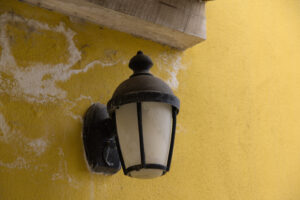 We found this little ma'ma duck sitting on her eggs. She din' give us no mind as I was leaning over to steal some images of her.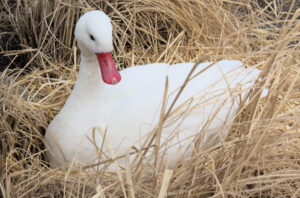 Oh the Flamingos. Holly crap yes, there were a bunch of "pretty young" Flamingos. I'm not sure if the Aviary is feeding them crill or shrimp or what ever they eat to keep them pink, but they looked beautiful. And their eyes. I really liked their eyes, but had a hard time getting them to "eyeball me" right. Here area few pictures I liked.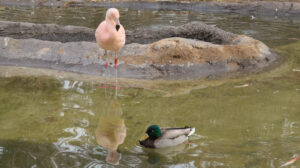 These two black and blue birds had the most amazing eyes. If you click on their image, it'll get bigger, and from there you can zoom in and see them "eyeballin' me". Then there was a Peacock hiding behind an AC unit. I think he was probably pretty warm cuz he wasn't really worried about me sneaking around the corner and stealing his picture.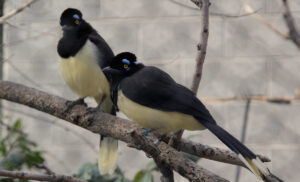 Three of four ocean going storks, or what not. They were the funniest of the fowl we found. Got one doing the side eye, another trying the catch one of the ducks (Jamie got a great picture of that), and another that kept stretching his wings. These were the last birds we saw before wondering into the gift shop.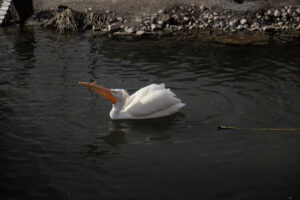 A winter quiet amusement ride, beautiful view, and a park bench with cold coffee waiting for its consumer.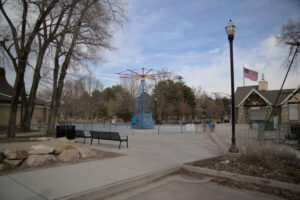 On the way home we wanted some food and a Coke. Dee's doesn't serve Coke, so we went to Village Inn. Turns out, neither do they. Suffered through some unsweetened tea, some pretty good pot roast, and headed home to edit, upload, and write this.