This weekend is brought to you by a cold day, way down in Murray (Utah), and some running around.
1st stop was the post office in Murray. I would say there's more to it, but the post office was the stop, they required masks, and I forgot mine in my car. So I wondered around and took a few photographs. The cop shop was across the street from the Post Office so I walked around looking really suspicious with my camera in hand.
I'll start with the fire-hydrant because, well, colors. Nothing to say really, just red, yellow, sunshine, & shadows.
I also played with my polarizer filter a little more too. I'm sure this' when I "should" have been harassed by the "fuzz" but I think they had all taken the day off. You can tell which image was with out the filter set, and which was. You can see the reflection in the glass more than what's behind the glass. Spin the filter a little bit, and, like magic, the reflection vanishes, and you can see what lies behind.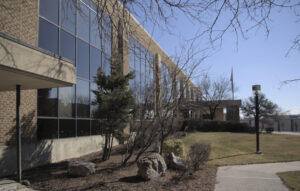 Behind the cop shop, there was plants, park benches, some hand rails, and stuff to clickity click. Nothing really special here, just playing around with the angles, shadows, and … "colors"? I just like the park benches, angles, and the way it looked through the view finder.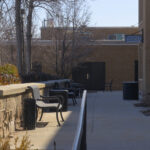 Then, on the other side of the vines (on the left side of the back side pictures) were a few things that looked good when zoomed in. I don't really know why I like seeing things clear, at angles you don't see when just walking around, and cropped to they are the focal point of the image, but I really enjoy taking those pictures. The two images below are perfect examples of that. They weren't that noticeable with out being zoomed in, cropped, and adjusted to bring the details out.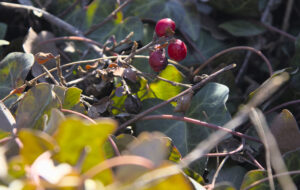 Finally, I was wondering around the side of the Post Office, and liked the wavy bike rack, then the arched walkways over the sidewalk, and finally Jamie peeking around the corner as I was clicking the last of the images.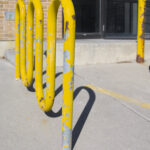 Tomorrow we're going to wonder around Liberty Park. I haven't been there since I was a kid, so I'm excited to see it again, take some pictures, and experience the feeling leaving my fingers and toes as the cold chill of late winter try to eat me alive.
Take care, notice the oddities, and appreciate the present. ~me