Today I got the call to go pick up my money pit (aka: 2013 Ford Flex Limited EcoBoost). It was a really nice day today so I grabbed by camera, bag, and zipped out the door to get the over priced monster.
Here are a few pictures, it was 2-3pm or so. That means the light was horrible for taking pictures, and as I suspected, most of my images are both blown out, and under exposed (I literally pointed, shot, and kept walking). Probably should have taken a different road since this is basically the path I took when I dropped it off a couple weeks ago.
I did stop at one person's yard to take a quick picture. Their neighbor was out and about fussing about a box Amazon had dropped off on her porch. She didn't sound like a pleasant person, so I clicked, and zipped.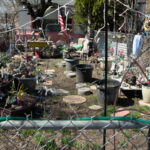 Most of the walk was pretty boring. It is funny what a pansy I've become over the winter. It was about 65* (f) on my walk, and I was cookin'. I really loved getting out and wondering around a little though. Hopefully this weekend me and Jamie can zip around some trails that are dirt, instead of paved paths.
I logged back into Trucar and Carvana to see what they'll give me for the Flex. The price dripped a LOT because I didn't realize how many miles were on it last time I got an estimate. Dropped over a thousand dollars because I misjudged the mileage by 1000 miles. Ugh! Not to self, kid's aren't allowed access to your vehicles anymore. I didn't take any pictures of it because, it's really not that exciting.
The rest of my pictures are down there, but here is that damn ugly building that always catches my attention (the thermometer was busted, but it looks pretty nice – kind of Deco).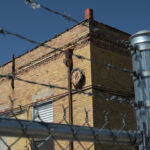 I guess most of today's pictures were about composition more than image quality (and that's the excuse i'm sticking with).
Overall, it's been a really REALLY lazy day (Diesel is laying at my feet right now – we're on the front porch giving the Mosquitos something to eat).
Have a great weekend everyone, it is going to be beautiful weather here, finally!
~me